Parkinson's Disease-Causing Protein Hijacks Gut-Brain Axis
Parkinson's may start in the gut and travel up to the brain via the vagus nerve.

Christopher Bergland | Jun 26, 2019
Experiments in mice at Johns Hopkins Medicine suggest that the transmission of a toxic neuron-killing protein (α-syn) associated with Parkinson's disease originates among cells in the gut and travels up to the brain by hijacking the vagus nerve. This paper, "Transneuronal Propagation of Pathologic α-Synuclein from the Gut to the Brain Models Parkinson's Disease," was published today in the journal Neuron.
The researchers are optimistic that this discovery may eventually lead to more effective ways to slow or prevent the progression of Parkinson's. "These findings provide further proof of the gut's role in Parkinson's disease and give us a model to study the disease's progression from the start," leading co-author Ted Dawson said in a statement. "This is an exciting discovery for the field and presents a target for early intervention in the disease." Dawson is a professor of neurology at the Johns Hopkins University School of Medicine and director of the Johns Hopkins Institute for Cell Engineering.

The latest study in mice from Johns Hopkins adds to a growing body of evidence suggesting that the gut-brain axis plays a central role in the advancement of Parkinson's disease. In the early 2000s, Heiko Braak of Germany's Johann Wolfgang Goethe University and the Michael J. Fox Foundation for Parkinson's Researchdiscovered (Braak et al., 2003) that parts of the central nervous system that regulate the gut showed an atypical accumulation of pathological alpha-synuclein (α-syn) protein in patients with Parkinson's disease.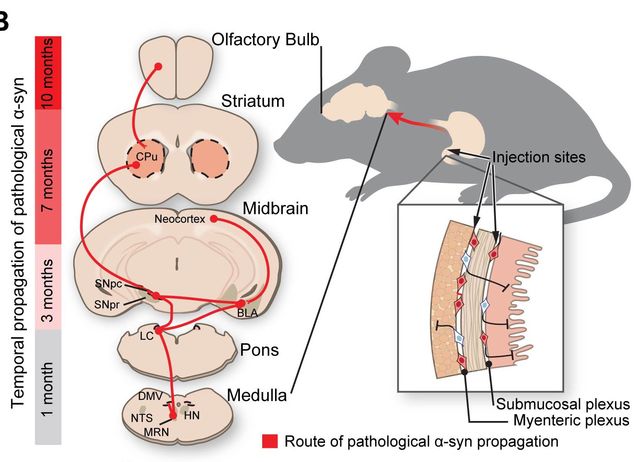 Decades ago, Braak hypothesized that α-syn proteins associated with Parkinson's disease might travel up the nerves connecting the gut to the brain as if they were climbing a ladder. As you can see in the illustration above from Dawson's latest study (2019) in mice, Braak's theory might be right.
Advanced Parkinson's disease is characterized by impaired movement and cognitive deficits along with α-synuclein buildup in the brain. As more of these neuron-damaging proteins clump together, it creates a snowball effect that kills brain cells. This dead brain matter is called "Lewy bodies."
Notably, according to another senior co-author, Han Seok Ko, the initial appearance of toxic α-syn proteins in the gut is consistent with one of the earliest symptoms of Parkinson's, which is constipation. Ko is an associate professor of neurology at the Johns Hopkins University School of Medicine.
Through a series of elaborate experiments in mice, Dawson and colleagues were able to show that pathologic α-synuclein can be transmitted up to the brain via the vagus nerve. According to the researchers, severing or blocking vagal transmission pathways with a "vagotomy" might be a way to halt or prevent some of the physical and cognitive manifestations associated with progressive Parkinson's disease.
The next phase of research by the Johns Hopkins team is to pinpoint precisely what parts of the "wandering" vagus nerve are hijacked as toxic α-synuclein proteins climb from the gut to the brain and to identify the best way to stop this transmission.
Note: Another potentially groundbreaking Parkinson's disease study from earlier this month (Wilson et al., 2019) by researchers at King's College London reported that a loss in serotonin function might be an early warning sign of the condition. (See, "Serotonin Malfunctions May Be a Harbinger of Parkinson'

References
Sangjune Kim & Seung-Hwan Kwon, Tae-In Kam, Nikhil Panicker, Senthilkumar S. Karuppagounder, Saebom Lee, Jun Hee Lee, Wonjoong Richard Kim, Minjee Kook, Catherine A. Fos, Chentian Shen, Hojae Lee, Subhash Kulkarni, Pankaj J. Pasricha, Gabsang Lee, Martin G. Pomper, Valina L. Dawson, Ted M. Dawson & Han Seok Ko. "Transneuronal Propagation of Pathologic α-Synuclein from the Gut to the Brain Models Parkinson's Disease." Neuron (First published: June 26, 2019) DOI: 10.1016/j.neuron.2019.05.035

Heather Wilson, George Dervenoulas, Gennaro Pagano, Christos Koros, Tayyabah Yousaf, Marina Picillo, Sotirios Polychronis, Athina Simitsi, Beniamino Giordano, Zachary Chappell, Benjamin Corcoran, Maria Stamelou, Roger N. Gunn, Maria Teresa Pellecchia, Eugenii A Rabiner, Paolo Barone, Leonidas Stefanis, and Marios Politis. "Serotonergic Pathology Linked with the Premotor Phase of A53T α-Synuclein Parkinsonism and with Disease Burden: Cross-Sectional Studies" The Lancet Neurology (First published: June 19, 2019) DOI: 10.1016/S1474-4422(19)30140-1

Retrieved from PsychologyToday on June. 27, 2019. Christopher Bergland. "Parkinson's Disease-Causing Protein Hijacks Gut-Brain Axis"