Voice of the Future 2018
Voice of the Future is a unique event in Westminster, at which young scientists and engineers are able to pose questions to key political figures.
This year's event was held in the Houses of Parliament on March 13 and was attended by the newly-appointed Science Minister Sam Gyimah MP, Shadow Minister Chi Onwurah MP, Stephen Metcalfe MP together with Science & Technology Select Committee colleagues, and Dr Rupert Lewis, the Director of the Government Office for Science.
The event was broadcast live on Parliament TV and is available to watch.
Representatives attended from over 20 learned scientific societies, including Mattias Bjornmalm and Monica Killen, who were representing the Royal Society of Chemistry. They told us about their experience.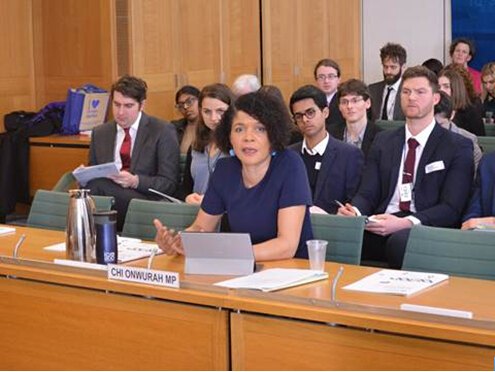 Picture: © Royal Society of Biology
Monica Killen, University of Cambridge
The 2018 Voice of the Future event was an excellent opportunity to hear first-hand the opinions and priorities of current science policy makers. I really admired the passion, honesty and eloquence of Chi Onwurah MP in the second session, particularly in regard to the importance of diversity in science.
It was quite encouraging to learn that several of the MPs on the house select committee had a background in science, and even those who did not, had a real respect and interest in the future of science in the UK. The surprisingly frank admission that "at times you have to look at the evidence, evaluate it, and then actually move away from it", by Stephen Metcalfe MP seemed to be received about as well as could be expected from a crowd full of evidence-loving scientists.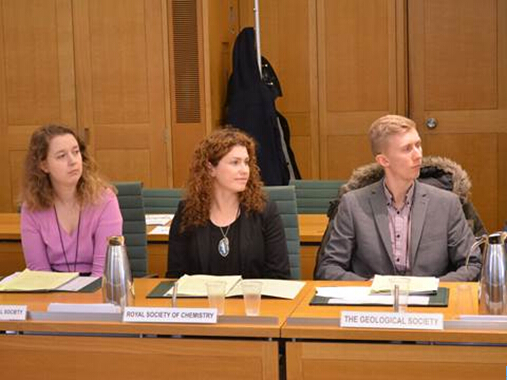 Picture: © Royal Society of Biology
I was glad to see that my concerns regarding a scientific career were mirrored by many other early career researchers there that day, and that those issues were being raised. Some of the many pertinent questions put to the panel regarded the problems with the current science funding model, including the reliance on short-term contracts and resulting job instability, the impact of Brexit ,and the excessive time required of scientists to spend grant writing instead of focusing on the science they excel at. I feel that the event will help to reinforce that these are important issues that do need to be addressed.
Occasionally the responses were classic 'politician's answers' bordering on filibustering, avoidance, or just listing statistics from their notes – but in any case, we got a real insight into government workings through this unique 'reverse select committee' format. It proved to be an inspiring and valuable event, which I very much enjoyed attending while representing the Royal Society of Chemistry.
Picture: © Royal Society of Biology
Mattias Bjornmalm, Imperial College London
I asked two questions, one on the environmental impact of plastics, and the other on the mental health and well-being of early-careers researchers. The MPs discussed these and other issues at length.
Making meaningful progress in these complex areas requires enthusiasm and hard work, and a willingness to invite and encourage input from diverse sources such as early-career researchers who are often very passionate about these topics.
It was encouraging to experience how keen senior political figures were to engage on these important topics with early-career researchers.